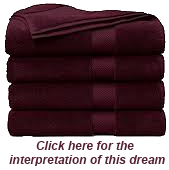 This page is dedicated to those who are interested in partnering with EIMI and the calling of God on my life to faithfully steward what He has called me to do.
In December of 2012, I dreamt that while standing outside of a woman's coffin, I raised her from the dead. She was ethereal looking, the color of light, and she was teary as she kept blinking her eyes, waking up, looking at me as if to say, "Who are you?" I, too, was teary-eyed as I looked at her with great compassion, and I knew that Jesus was present in a physical manifestation because of the power that was demonstrated. I looked to my right–and there He was, in the form of burgundy towels. He was not wrapped in burgundy towels. He WAS burgundy towels. I noticed that He was taller than me, and I walked over to Him, and We held each other.
It is with this comfort that I wish to preach the gospel, and it is with this compassion that I wish to "comfort those who are in any trouble, with the comfort with which we ourselves are comforted by God" 2 Corinthians 1:4. The Summer of 2012 was the first women's retreat EIMI ever held, and as we stretch forth into the future, it is with His grace that we will fulfill His calling to preach, prophesy, teach, exhort, reprove, revive, and equip.
We invite you to prayerfully join us with the expectation of sharing in the fruitfulness and the reward reaped through the obedience of this ministry. We love you and thank God for your belief in us, your prayers, and your financial support. Dream big with us through your partnership, and look forward to upcoming products and events designed to advance the kingdom of God.
In Jesus' Name and for His Glory,

To become a Partner, choose a Monthly Recurring Donation amount below. To make a one-time donation instead of a monthly recurring, click on the "Donate Now" tab above.
| | Amount | | Amount | | Amount |
| --- | --- | --- | --- | --- | --- |
| | $10 | | $30 | | $125 |
| | $15 | | $50 | | $150 |
| | $20 | | $75 | | $200 |
| | $25 | | $100 | | $500 |

IMPORTANT: Your first contribution will be processed within one business day. Beginning next month, donations will be charged on or around the same day of the month. EIMI is a 501(c)(3) ministry and all donations are tax-deductible and are appreciated large or small.